My friend Robin is expecting her grandchild Zoey to arrive soon. Fortunately I was able to finish up the letters for Ms. Zoey. I loved the colors her parents picked out for the nursery - lime green and lavender with a hint of yellow. They also put Tinkerbell in the room so one of the quotes I put on the letters is about fairies and little girls. It seemed appropriate. Other embellishments are buttons, ribbons, photo clips, flowers, a butterfly and simple words like Cherish and Joy. I am sure they will look delightful once they are hanging on the wall with some of Zoey's pictures attached to them, don't you?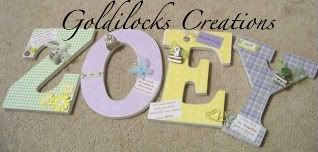 Now I did promise a giveaway and I am just tickled to offer it to you. It is the.....
PHOTO LETTERS!
The winner will receive a set of letters that spell out one of the following:
Love, Hope, Joy or Home. These are 6 in wooden letters with pre-drilled holes for hanging. Every letter comes with a clip waiting to display your treasured photos.
If you are chosen , you can let me know your color scheme so I can customize them to match your decor.
I will be using a random number generator to choose the lucky person on Sunday,
August 1st, 2010 @ 4:00pm.
Just tell me what word you would choose to enter.
I am offering everyone up to

four

extra chances to enter. (

You must leave a s
eparate comment for each one.)
1. Follow our blog Goldilocks Creations.
( Just leave a comment if you already follow)
2. Grab Goldilocks Creations Button f
or your blog.
3. Follow Goldilocks Creations on Facebook.
(
Just leave a comment if you already follow)
4. Post about the giveaway on your blog or Facebook.
Good luck to all and thanks for visiting us!
:)