Every since I posted about our tree trimming ceremony, I have received so many questions as to how we keep track of all those ornaments. Its very easy with this pretty little notebook I made to record all my additions to our ornament collection.
I had to have something to keep up with all of the ornaments as the collection grew.
So many of my ornaments were given to me by my clients in my former life as a hairdresser. My mother always gives me a new hallmark ornament at Christmas. Not all of the ornaments were given to me though. Some of them I acquired as I traveled with my job or when we were on vacation.
Many of them have been made by my children and myself which obviously means more than I can say. Several of them are worn out and look a little sad but I must keep them because they were my grandmothers. I remember them in their glory, hanging on her tree mesmerizing me with their beauty.
When we hang these ornaments on the tree, a vivid memory comes back with the ornament. This is the main reason I keep a record. I never want to forget or my children to forget. Not the ornament but the person, the place, or the activity associated with the ornament.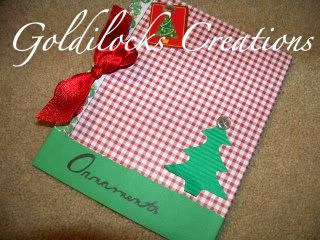 If your collection of ornaments is growing you might want to think of decorating a notebook for yourself too. So many in your family will appreciate it as time marches on. I guarantee it! ;-)