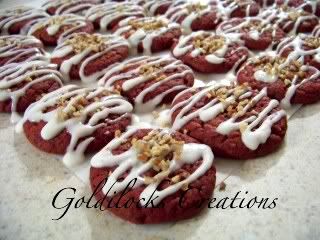 I love to

bake

cookies, my boys love to

eat

cookies, it is the perfect relationship. The lord knew which boys needed to come to me. *LOL* I make up a lot of cookie trays as gifts as I am sure so many of you do too. Our family has a hard time deciding which cookies make the cookie tray list. As of last year we I made at least 26 different cookies and candies for the trays that we give to family, friends and coworkers. It was really just way too much work. Of course I had pnuemonia also......... so that could have been a little bit of a factor
(maybe just a little)
. This year I have decided it was too stressful so each person may choose their top 3 cookies or candies that they think should be on the tray. They taste, they vote, they taste some more and remake their list again. It should be interesting to see what we end up with this year.
My top 3 cookies and candies are Red Velvet Cookies, Pecan Sandies and Buttered Rum Fudge. The Red Velvet Cookies are by far my most requested christmas cookie. The recipe I use for them is
Paula Deens
recipe for her Red Velvet Cookie Sandwiches. Obviously I do not make them into sandwiches. I just make them into cookies, after they cool I drizzle them with cream cheese icing and sprinkle them with chopped pecans or walnuts (
whichever I happen to have
). They are

delicious

.
I have been known to make them at times other than christmas just because I love them sooooo much.
My grandmother made Pecan Sandies every christmas. They are basically like mexican wedding cookies or danish cookies. It is a delicate shortbread cookie loaded with chopped pecans and rolled in powdered sugar. I still love licking the powdered sugar off my fingers! I feel like I am a child again when I eat them.
The Buttered Rum Fudge recipe came from one of my Pillsbury cookbooks I received almost 15 years ago. I love it because of its flavor and the ease of making it. I always get request for this recipe when I serve it or give it as a gift.
If you have never tried Buttered Rum Fudge, let me encourage you to give it a try. I am sure you will not be disappointed. I will warn you though, like any fudge it is sweet but that is what the holidays are all about , right?