This past fall I decided I needed a theme for my school accessories. The number one reason was I had an ongoing issue of leaving my cup, clipboard or notebook somewhere around the school during the course of my travels with our K students.
I can not tell you how nice it was to find my misplaced items in my box after they had been misplaced.

Everyone
knew that anything with the

P

on a zebra background was Mrs. Patel's. The second reason........ it was just tooo

Cute

not to do. I even managed to find zebra pens, pencils, binder clips and umbrella. Yeaa, sometimes its the little things in life!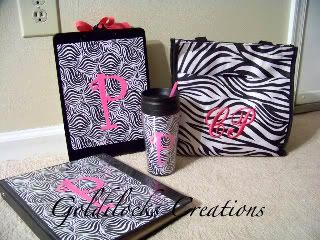 One of my friends has a daughter thats just as crazy about the zebra print as I am.
Since

J

is heading off to college this August, her mom ask me to make a few items to help with the lack of space they have in the dorm rooms. Deb found a comforter set in the zebra print. I had already made her 2 small square black fabric memo boards with zebra ribbon to coordinate with the comforter. Then I got my embroidery machine. It is so much

fun!

I can do so many cool things with it. I recently discovered that I can do applique designs too. This is what I came up with, a zebra circle applique with a

J

in it.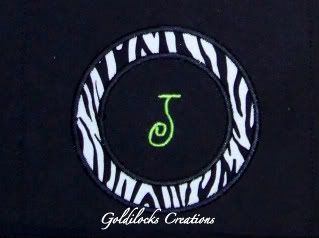 Since the comforter set is a zebra print all over, I thought this bed caddy would stand out more if it was black with just a tad of zebra on it.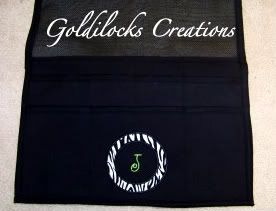 It has a total of 6 pockets to hold all those essentials like her phone, ipod, a book, tissues and such. I actually sewed a gripper pad to it to tuck in between the sheets to ensure that it would be snug. One more way I thought we can give J some more storage was to make this chair caddy to keep some school supplies off the floor desk so she can work. I did the same design so that we would not be on zebra overload.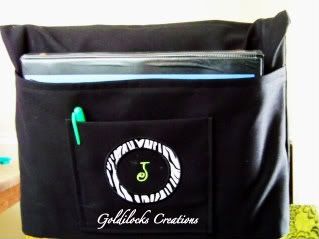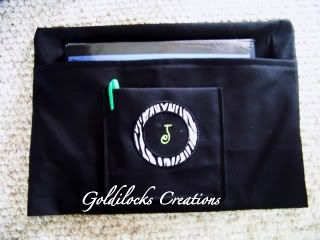 If you have ever been in a college dorm room, you know they must be very creative to find space to store everything. I think this will be very much appreciated by any college bound student. I actually think I need to make one for each of my boys...... hmmm, maybe you will see those in the coming months.
Check out these wonderful sites that I am linking this project to: