Every since I bought my embroidery machine, I have been playing around with fonts I have found. I love this one font in particular named boys. I do not know why they named it boys because it actually works for both genders. All of the capitol letters have a pic of an item that starts with that letter. Just absolutely adorable!!!!! I immediately thought I would use it to make some baby blocks.
Then the more I thought about it..... I knew I wanted to put the babies name on it. A name is such a powerful thing. It solidifies who we are, sets forth our identity and it is normally one of the first things a baby learns. I think it is a great way for the child to connect their name with the letters of their name. In addition to the name, I knew I wanted to add taggies, different textures and a sensory effect for the ears. This is what I came up with.
I made this one for Zoey. It has crinkly paper inside the block. The boys and I can not stop touching it. We love the crunchy sound it makes and all the taggies feel neat. Did you notice the zebra in the "Z"? It may be hard to see in the pics but it is there.
Jack will be receiving this one. I really loved all the fabrics I used - a waffle texture, some flannels with cars printed on them and I actually used a square from a onesie with a car embroidery on it. I put a bell inside Jacks block. It sounds great!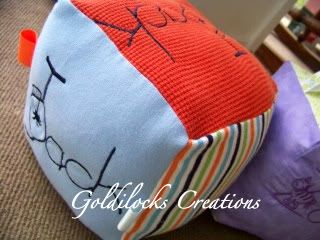 So what do you think......should I put these in my store?
Which brings me to another scenario. So many of you keep prodding reminding me to put more of my stuff in the store. It is on my to-do list, I promise but I must tell you a secret. It is so easy to procrastinate on that when you start a project. I tend to love creating toooo much. Then I get lost in it. But I promise I only have 3 projects finish up tomorrow. This coming weekend,,,, my store will be loaded with the items. If I do not do this, someone please prod remind me again ....please!