Here is the latest t-shirt I created for the twins. I found these shorts last year,

loved

them since they had all kinds of cool marine animals on it. The shirt that went with the shorts was kind of lame though. I had been wanting to do a reverse applique shirt for them and thought this was as good as any time to try it. After I did the reverse applique, I did some freezer paper stenciling

(I know, you would have never guessed that! *LOL)

on the front and the back.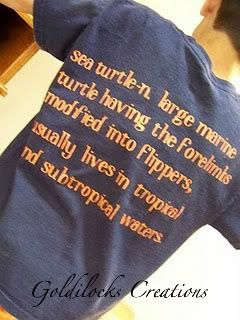 We managed to put the definition of the Sea turtle on the back!

Very

COOL, don't ya think?

I love definitions, have them on some of our home decor so I thought it was time to add it to the clothing aspect of our lives.
I will say this was time consuming though. I used the cricut to cut out all the letters. That definately saved some time but

still

positioning each letter and ironing it down before painting it was a slow process. Of course that could be because I also have lots of helpers too............
We also started studying the states this week. We are trying to learn about one state per week. If you have any cool ideas or thoughts that will add to our studies, please let me know. I am very open to suggestions.
I am linking my tshirt design up to the following: