Guess what....... my cell phone can not hold its charge more than like an hour ....go ahead,

laugh

. It really feels as if every electronic, appliance in my life is taking a break from its responsibilities. Drama, drama, drama with the gadgets in my life. Even my embroidery machine has decided I was overworking it the other day. How, you ask.....
Oh it decided to chew up a blanket I was embroidering for a friend to give as a gift.

Horrified,

I was!!!!!!! Let me just say that blank blue baby blankets are not easily found in my area. I would know this because I visited

every

one in the area trying to find a replacement. After realizing that this was not going to happen, I knew that I would have to make her a new one to replace the one that was not so ready to be given. So I came up with this and had a little cooperation from my machine to personalize it as well.
I finally calmed down once I had it completed to understand not all was lost with the chewed up blanket. I was able to take the rest of the blanket and make the following:
A Monkey Lovie, He is a cutie!!!
A Burpcloth, a Bib and a Wrist Rattle
I love this Taggie Bib and the Wrist Rattle. They turned out much better than I could have imagined.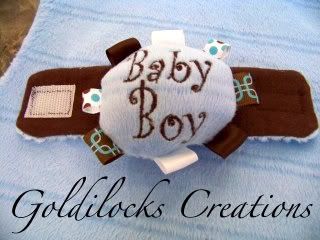 Life threw some lemons at me this past week, looks like it is still hurling some this week. But that is OK.......because I know how to make lemonade!