It will not be long till Halloween is here. I can already feel a little bit of the autumn crispness in the morning and evening air. I love this time of year. Fall colors are truly some of my favorite color combinations. Normally I decorate the house for the fall on labor day weekend but due to the appliance trouble that was all mine last week, it just did not happen. Maybe this weekend? Hmmm, we shall see.
I did get to work on this Halloween Bucket for Claire. Between working on the bucket and the crispness in the air, I am really starting to get anxious about decorating for the fall. Claire's mom liked the candy corn fabric so we used that and the curly halloween font with cats, pumpkins and candy corn to create this adorable bucket. I did tie on some lime green tulle bows just to give it that sassy, girly feel. What do you think? Did I get it sassy enough for a 3 year old girl?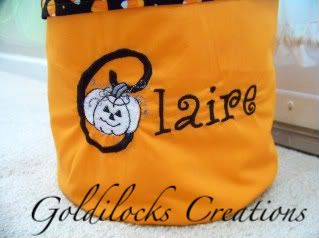 I just can not wait to see Claire all dressed up with her tote. It should be a precious picture!