I think I showed you the cool font I recently got that is a spooky frame design.
I fell in love with it but could not decide if I wanted to do a banner or some pillows. I finally decided on the pillows. I just love how they turned out. What do you think?
They are already gone though. I had to start a new set this evening for myself. I used a black and white toile looking fabric on the opposite side. Black piping finished it off with a nice polished, elegant look.
In addition to the spooky frame, we managed to FINALLY decorate the front porch and the mailbox for FAll. My kids said......Well it is about time! I have them spoiled. They assume I will do something again because we have done it before. This is exactly why I have to make owl cookies, pumpkin bread, candy corn fudge and black cat cookies this coming week.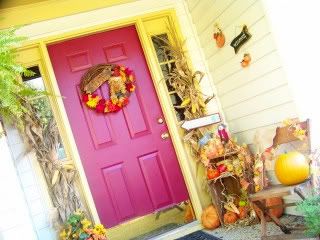 Cya soon. I promised myself I would not neglect my blog anymore! Hold me accountable folks! :-)