I have been working on quite a few orders this week and organizing all of our homeschool stuff. We are still finding what works for us and what does not. Somehow I did manage to complete a birthday package, a fall banner for myself, hair clips, bows, buckets . Oh and let us not forget I messed up a shirt really bad ( this comment is dripping with sarcasm and disgust). It was awful..... which goes to show embroidering with a machine still requires constant management and preparation to achieve good results. I really wanted to complete that shirt too so I could have the little boy that I watch, wear it to the pumpkin patch. I guess mother nature heard about my ordeal. She has sent a great deal more rain. Now I can use that as an excuse as to why we are not going to the pumpkin patch just yet. This is what I wanted to make for him. Cute right?
Yeah, well .....we will just say mine was not! One of the fabrics caught up under the presser foot and that was all she wrote.
I picked out the stitches but what a mess!
So maybe tomorrow I will work on it. I was just so disgusted with the whole ordeal that I needed something to cheer me up so off I went to make some cupcakes. Not the typical kind that give you immediate gratification but these cuties that will give smiles for a long time! They look yummy enough to eat!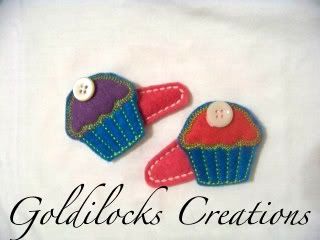 I actually had the idea to add them to my birthday banner with clips to hold photos of the birthday child. I know......I amaze myself sometimes too. *LOL* Sometimes I think we look as things just as they are and tend to forget what else we can do with them.
I do not know why I did not think of this sooner but at least I did, right?
I will share a pic of it tomorrow . Who knows maybe I will share my pumpkin truck shirt with you too. I just need more strength to go there again.
Hopefully a good nights sleep will give me just that!