I have come to the realization that the right equipment makes the difference between an easy job and a challenging job. Take for example this lovey I made for a Bunko friend of mine to give as a gift.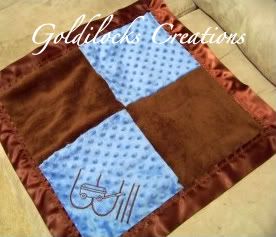 I love the colors she picked out. We did two different textures of minky on one side and a blue satin material on the back. I have to say that just cutting the minky fabric is challenging It was a devil of a time to get 4 squares that were exactly the same. By the time I finished cutting it, I knew my next purchase would be a rotary cutter, mat and templates. Well.... no sooner did I make that decision before another came crashing into me. Sewing the minky material is not a picnic either. You definately need a different foot for your machine to make gliding the material easier. I quickly understood why my grandmother was not happy when I chose to make a jersey knit dress for my home ec. project. Her words came rushing over me how some fabrics creep and crawl, how I would be wiser to use a different fabric since I was learning how to sew. Even though it was challenging, I was pleased with how the lovey turned out for Will.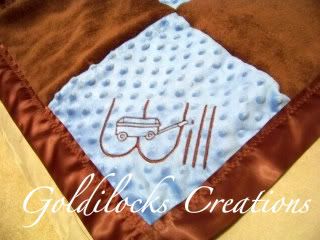 With all the insight I gained from this project........ guess where I will be this weekend? If you guessed .....at Joannes purchasing a rotary cutter and mat with my coupon, you would be right! I can only imagine how well it will turn out with the right tools.